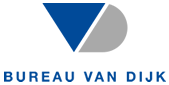 Company profile
Bureau van Dijk Electronic Publishing GmbH
D-60314 Frankfurt, Hanauer Landstr. 175-179
Phone: +49-69-963665-0
Fax: +49-69-963665-50
E-mail: frankfurt@bvdinfo.com
Web:
www.bvdinfo.com
Type of company: Information Supplier & Information Centre
Contact: Herr Dominique Carnoy, Geschäftsführer
Profile
Specialising in private company information We add value to company information so you can find, analyse and compare companies across the globe - and work more efficiently.
Our product range includes databases of company information and business intelligence for individual countries, regions and the world. Our global database, Orbis, combines information from more than 140 sources and covers over 200 million companies. We are always looking to enhance our coverage and sourcing new information that can enrich existing coverage or help us increase our universe of companies.
We have extensive coverage of private companies, detailed company hierarchies, standardised financial reports so you can compare companies across borders plus financial strength metrics to assess financial viability of companies.
Increasingly our customers blend our detailed data with their own to get insight on their customers and suppliers to assess risk and from a business development perspective.